[11/03/2018] › SATURDAY NIGHT RAW LIVE

(WEEK 1: CHARLOTTE, NORTH CAROLINA)
THREE WEEKS AWAY FROM SURVIVOR SERIES. 
––––––––––––––––––––––––––
PLACE
SPECTRUM CENTER (NORTH CAROLINA) 
THEME 
"BORN FOR GREATNESS" BY PAPA ROACH 
–––––––––
(OUVERTURE) Dean Ambrose s'exprime sur Hell In A Cell et Survivor Series. 



Dean Ambrose, Shane McMahon et Buddy Murphy 

L'ouverture habituelle est faite par les commentateurs américains; Michael Cole, Corey Graves et Booker T. 
Dean Ambrose arrive sur le ring de RAW, ici à Charlotte en Caroline du Nord. Il s'exprime sur le fait que le combat de Hell In A Cell fût un challenge mais il a battu Shinsuke Nakamura et il prouve bien en étant debout et avec les séquelles du match qu'il est bien le champion universel. Cependant une étape est passée et un nouveau chemin s'ouvre: Survivor Series. 
Dean Ambrose se fiche de qui il devra affronter à Survivor Series, et qu'il aura pas du mal à finir Bobby Roode sachant qu'il s'était fait froissé par A.J. Styles à Hell In A Cell: il compte bien prouvé qu'il est le champion incontesté de la fédération. 
Cependant le champion se fait interrompre par le Général Manager Shane McMahon qui lui annonce qu'il défendra son titre durant le Pay-Per-View. Ce ne sera donc pas Bobby Roode son adversaire, ni même Kevin Owens ou Johnny Gargano. Néanmoins Buddy Murphy surgit dans l'arène avant d'assener son Murphy Law dans le dos de Dean. Shane tente de le rattraper mais Murphy réussit à se faufiler par les tribunes. Shane va pour checker sur Dean qui est rapidement amené par les officiels de la HTE. 
La promo se finit sur les regards inquiets de Shane. 
––––––
PROMO 1: 4 STARS. Très bon contenu qui a été respecté par les deux lutteurs. Une façon originale et personnelle de s'exprimer cependant un manque de fluidité durant l'attaque de Murphy qui l'a rend un peu moins crédible..
––––––
MATCH 1 – TAG TEAM MATCH
MUSTACHE MOUNTAINS (TYLER BATE & TRENT SEVEN) vs THE USOS (JIMMY & JEY USO)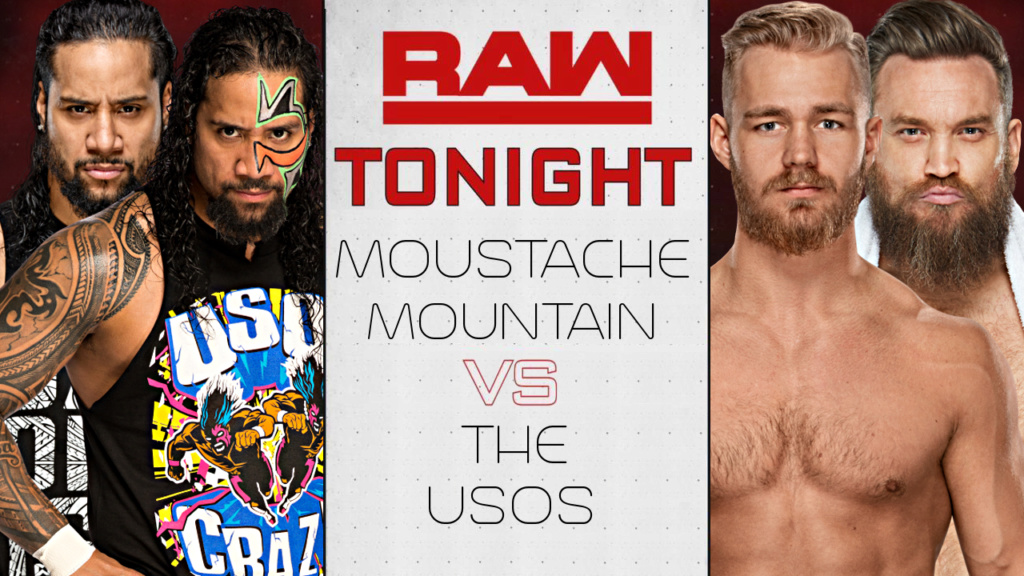 (fin du match) Tyler bate réussit à place ton Tyler Driver après avoir longtemps dominé le match face à Jimmy. Le pinéal lui donne la victoire. 
MUSTACHE MOUNTAINS remporte le match par tombé. 
––––––
MATCH 1: 4 STARS. Très beau match, quelques difficultés au départ mais un très bel échange entre les deux équipes, fluide, technique et surtout un beau jeux d'équipes pour les deux teams. Peut-être que l'échange manquait un peu plus de folie mais c'est une bonne reprise d'équipe 
––––––
MATCH 2 – SINGLE CONTEST 1 ON 1 
BOBBY LASHLEY vs REY MYSTERIO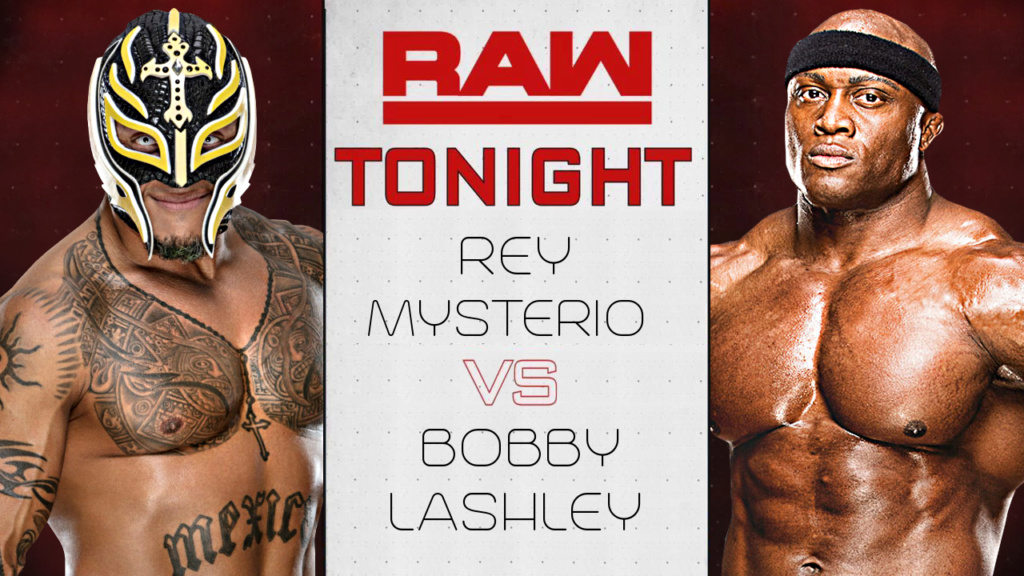 (fin du match) Dans un échange de force, le luchador n'arrive pas à imposer son rythme ce qui permet à Lashley de placer son spear avant de remporter la victoire par décompte de 3. 
BOBBY LASHLEY
 remporte le match par tombé.
––––––
MATCH 2: 2/5 STARS. Le match était… brouillon. Très peu de fluidité, beaucoup d'hésitations mais un move-set intéressant des deux parties. Justifiant ainsi quelques incompréhensions et un match assez court et bancal. Il faut essayer de recentrer les efforts sur un échange beaucoup plus stable au dépit d'une technique plus solide et simple. 
______ 
MATCH 3 – SINGLE CONTEST 1 ON 1 
TYE DILLINGER vs PETE DUNNE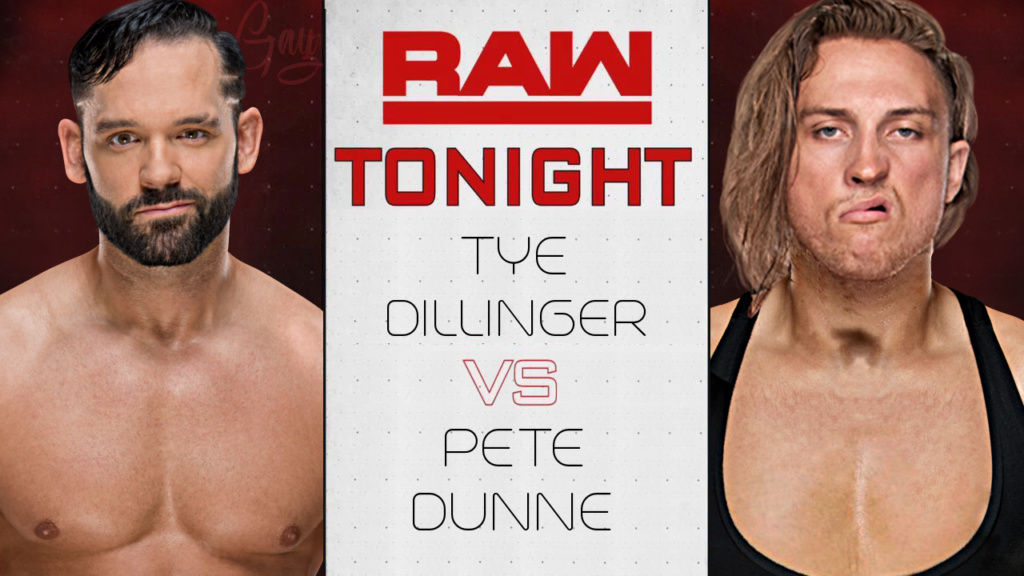 (fin du match) Les deux athlètes qui se donnent jusqu'à l'épuisement  mutuel et un échange qui ne laisse pas démérité l'un de l'autre. Dans ce match simple et acharné c'est Pete Donne qui surprend Tye et le public en plaçant son Bitter End pour la victoire!
PETE DUNNE l'emporte par tombé.
––––––
MATCH 3: 5 STARS. Fluide, Technique, Captivant dans un match pourtant bien simple. Peut-être le matchs de la soirée avec les deux membres montants de la HTE. Je pense que c'est l'un de mes premiers wow depuis la reprise et il n'a même pas été volé. Un match 5 étoiles, beaucoup de présence de la part des deux lutteurs en un mot: conquis. C'est avec joie que j'accorde un 5 étoiles à ce match. La surprise de cette soirée. 
––––––
(MI-TEMPS) Johnny Gargano s'exprime sur les évènements de Hell In A Cell. 


Johnny Gargano, Shane McMahon et Tommaso Ciampa

Johnny Gargano ouvre sa promo en expliquant les événements de la semaine passée: Hell In A Cell. Alors que les fans scandent "CIAMPA OWNED YOU", il raconte à quel point ça lui importe peu ce que les gens dise car son seul objectif était de marquer l'histoire. En étant le premier homme avec cette malette à l'encaisser sur le titre des Etats-Unis. Il aura bien marqué l'histoire mais pas de la façon dont il voulait. Il parle ensuite de Ciampa, il en a assez de sa jalousie impulsive et il ajoute que la seule raison pour laquelle leur équipe s'est divisé est car il est bien meilleur que luI. Quelque chose que Ciampa ne pouvait pas supporter. 
Alors bien sûr Ciampa lui a coûté une chance avec cette béquille, mais Gargano promet que la prochaine fois qu'il s'affronteront, c'est avec ces mêmes béquilles qu'il repartira quand il lui aura coûté sa carrière. 
Shane arrive ensuite dans l'arène, il affirme comprendre la colère de Gargano et que jamais au grand jamais Ciampa aurait du lui coûter cette opportunité. Car lui, seul dans cette branche peut donner et reprendre ces opportunités. Il offre alors de rendre cette malette à Shane lors d'un match à Survivor Series. Les fans scandent à Gargano de saisir cette opportunité cependant Gargano rétorque qu'il n'en veut pas. Ce qu'il veut c'est un redemption, contre Ciampa, maintenant là toute de suite. 
(non scripté)
 Le titantron de Ciampa se met en marche avant de s'éteindre à nouveau. Ciampa arrive par les tribunes et tente de déstabiliser Gargano. Celui-ci parvient sans difficulté à prendre le dessus avant de tenter son Gargano Escape mais Ciampa s'immisce hors du ring à temps. 
(scripté) Shane accorde le match à Gargano. Il poursuit en disant qu'il a signé avec Stone Cold un match à Survivor Series: Il pourra affronter Ciampa. Gargano finit la promo heureux de la proposition de Shane. 
––––––
PROMO 2: 5+ STARS. Respect de la promo, contenu intéressant et évidemment une touche personnelle dans la façon de raconter. Fluide et surtout énorme surprise pour l'entrée de Ciampa qui rende cette promo d'autant plus captivante. Félicitations.
––––––
MATCH 4 - SINGLE CONTEST 1 ON 1 
BUDDY MURPHY vs TRIPLE H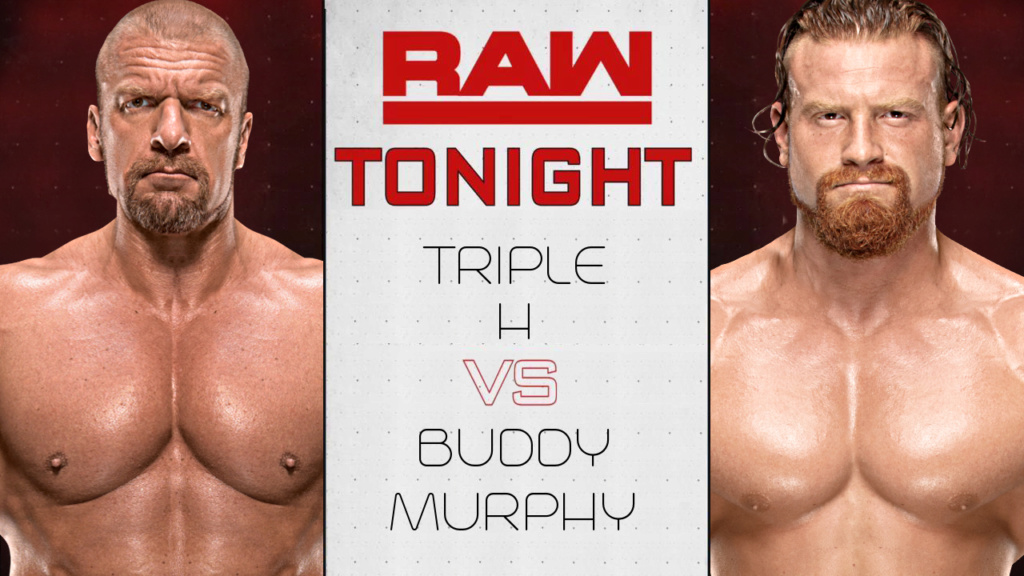 (fin du match) Dans un échange de force entre les deux lutteurs, sans parvenir à voir qui va vraiment river les épaules de l'autre c'est Buddy Murphy qui place la victoire dans son coin en imposant sa loi pour la victoire
. 
––––––
MATCH 4: 3.5 STARS. Un match qui partait assez mal pour Murphy pourtant au fur et à mesure du match on sentait que l'échange devenait bon. Un arsenal de prises intéressant aussi cependant un énorme problème de respect du jeu. Un très selling flou, une fin  précipité et casi-incompréhensible de l'adversaire et de l'arbitre. Ce qui résulte d'un match assez moyen finalement. Il faut savoir garder un échange stable et logique avec l'adversaire tout en respectant les règles!
––––––
MATCH 5 – SINGLE CONTEST 1 ON 1
JOHNNY GARGANO vs CHRIS JERICHO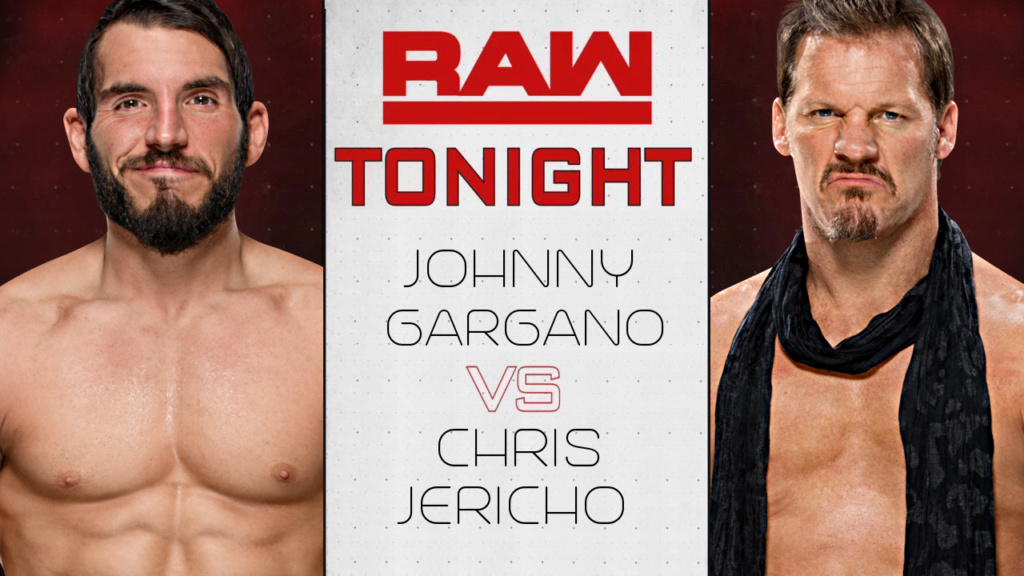 (fin du match) Les deux lutteurs nous offre un échange intéressant. Un joli mélange de prises mais Gargano arrive à imposer son rythme et c'est par ce fait qu'il surprend Jericho en lui plaçant son Gargano Escape qui lui vaut la victoire! 
JOHNNY GARGANO l'emporte par soumission. 
––––––
MATCH 5: 5 STARS. Un échange très technique entre les deux lutteurs. C'est sans surprise que le spectacle a ravivé le show après le low du match précédent. Quelques hésitations mais pas tellement gênant dans cet échange très fluide et plein de rebondissements. Un très beau ending inattendu par Gargano sur ce match, bravo à lui. 
______
MAIN EVENT – SINGLE CONTEST 1 ON 1 
DANIEL BRYAN vs JOHN CENA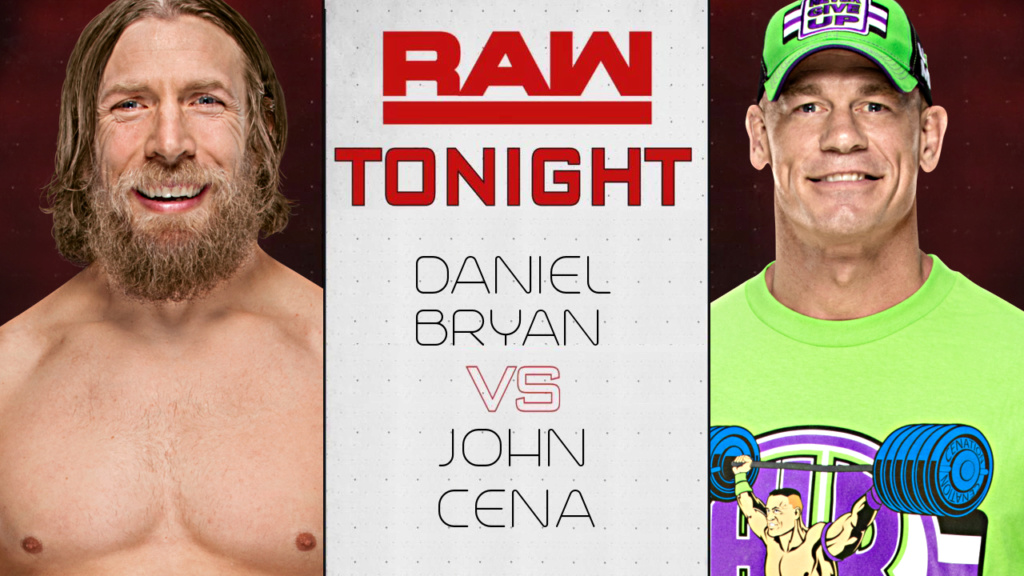 (fin du match)
Alors que John Cena tente d'en finir avec son Double A, Bryan contre intelligemment en son Yes-Lock. Cena tente de renverser dans un roll-up mais Bryan maintient la prise. Cena finit par faiblir et s'endormir ce qui permet à Bryan d'avoir la victoire. 
DANIEL BRYAN l'emporte par soumission. 
––––––
MAIN EVENT: 5 STARS. Un petit five star pour terminer la soirée. Encore une fois ici un très beau déroulement malgré quelques incompréhensions ne gênant pas cependant. Un match assez à l'ancienne comme on les aime avec des prises connues et une maîtrise reconnaissable. Echange fluide. Très belle victoire de Bryan sur ce coup là, félicitations à lui! 
________
Note du show: 8.5/10, Très convenable. 
Tout à été calculé selon mes propres critères et toute note à été attribué par moi seul. La majorité des 5 stars ont été mis parce que j'estimais que les matchs étaient très bons et captivant à leurs manières bien que ce soit des matchs simples dans un show journalier bien sûr. A échelle raisonnable, notes raisonnables (plus ou moins). Comme je l'ai dis dans le POWER 5, je suis vraiment heureux du show donné ce soir. Beaucoup de possibilités et beaucoup de potentiel à développer et je pense qu'on ne peut que devenir meilleur. Cependant même si la majorité des matchs ont été bons voire très bons il faut garder en tête que la stabilité est importante durant CHAQUE match. Les échanges sont faits à deux et améliorer votre lutteur c'est aussi améliorer les échanges que vous avez avec votre adversaire. 
Je pense que certains n'ont pas encore trouvé le bon appui sur leur nouveau lutteur ou bien tente de retrouver l'appui qu'ils avaient avant. Ce n'est pas grave, c'est un show journalier et on ne fait que reprendre. En revanche je vous conseille de ne pas vous reposer sur vos acquis car comme vous avez pu le voir, ça a pu besoin plus ou moins sur votre note. Je finirai en disant que j'ai été content d'arbitrer tout les matchs mais il faut aussi faire attention au respect du jeu et à votre adversaire. Je suis pas le meilleur des arbitres et il m'arrive d'avoir besoin d'aide cependant la validité de certaines prises est souvent à désirer. 
Merci à tous d'avoir participé et donner de votre personne pour ce RAW. Je m'excuse pour le démarrage j'ai eu des problèmes graves IRL qui ont fait tardé le début du show mais bizarrement le show s'est très bien déroulé ce soir! 
RAW LIVE RULES.. RAW LIVE RULES. 
Signing out, votre General Manager, Huille (& Raphent wlh c'est pas négligeable)
——⌜Hardcore Total Entertainment⌟——
 « A-LISTER, AWESOME I & SUPERNOVA » 
▬▬▬▬▬▬▬▬▬▬▬▬▬▬▬
SUPERNOVA ▬ the explosion of a star in which the star may reach 
a maximum intrinsic luminosity one billion times that of the sun.
1'HTE WORLD HEAVYWEIGHT (current)
 2'INTERCONTINENTAL (168 DAYS ▬ 5 MONTHS, 15 DAYS) 
 2'UNIFIED TAG TEAM
1'ADMIN CHEF JOURNALISTE 1'MODO 5'GRAPH 1'ARBITRE 2'GM 
[ICONIC DUO ▬ DON'T MESS UP MY TEMPO ▬ RAPHENT x HUILLE]

KoppuKick

Journaliste

Age

: 19


Messages

: 1022


Date d'inscription

: 15/03/2016

Zeze.

Journaliste

Age

: 18


Messages

: 863


Date d'inscription

: 15/02/2016

Bon show et concernant ma prestation, je m'engage à mieux jouer au prochain show. J'en profite pour m'excuser de mon jeu sur ce match.
——⌜Hardcore Total Entertainment⌟——
x1 NXT Champion
x1 Double X Division Champion
x3 Unified Tag Team Champion

ACCOMPLISSEMENT:
x1 Journaliste
x1 Chef Journaliste
gRAPHiste

Fondateur

Age

: 18


Messages

: 2639


Date d'inscription

: 20/02/2016

Dillinger on dirait un gay wlh
Bon show, continuons sur cette voie les amis
——⌜Hardcore Total Entertainment⌟——
‹ Iconic Duo ー Huille x Raphent ›
Don't Mess Up My Tempo!
Suho x Baekhyun
Clique
ici
pour m'envoyer un MP.
Le show était très bon, bravo à tous et j'adore la présentation des résultats
——⌜Hardcore Total Entertainment⌟——
Kenta

NXT Champion

Age

: 16


Messages

: 190


Localisation

: Canada


Date d'inscription

: 25/06/2016

gRAPHiste a écrit:Dillinger on dirait un gay wlh
Bon show, continuons sur cette voie les amis
pas sympa sa mais bravo à tous

Permission de ce forum:
Vous
ne pouvez pas
répondre aux sujets dans ce forum